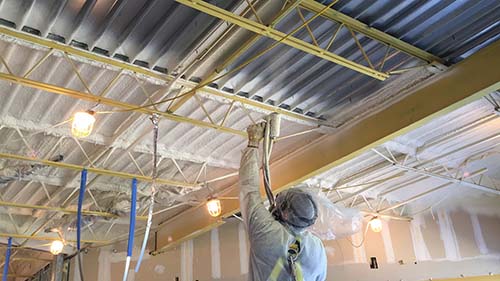 Spray foam is a very specialized packing material, often required for use in shipping valuable fragile items. Engineered packaging principles are designed to protect sculptures, vases, large fossils, lamp bases, busts, computers, furniture, chandeliers and other objects of unusual shape. By virtue of the liquid foam expanding by up to 30-60 times the volume of its liquid state, it efficiently protects almost any size, form and weight.
The custom fit of the molds, top and bottom, securely and uniformly cushions the object. There are many types of alternative materials that can be used to handle more specific needs.
Spray foam insulation or spray polyurethane foam (SPF) is an alternative to traditional building insulation such as fiberglass.
A two-component mixture composed of isocyanate and polyol resin comes together at the tip of a gun, and forms an expanding foam that is sprayed onto roof tiles, concrete slabs, into wall cavities, or through holes drilled in into a cavity of a finished wall.
"Spray foam" is also an informal term used to refer to various plastic foam materials that are used in building construction to provide thermal insulation and minimize air infiltration. Polyurethane and polyisocyanurate are two types of foam used in this application.
&nasp;